Email is the Way
Questions?
If you have any questions, please email us: sales@realbookings.com
Ready to start promoting your own Personal Selling Space?
Follow the instructions on the Getting Started page and send us your photos and other details.
Future
Some time in the future we will have an upload area for your photos and descriptions.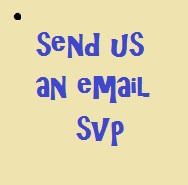 sales@realbookings.com

Hosted by TGM Computer Consulting Services Inc.